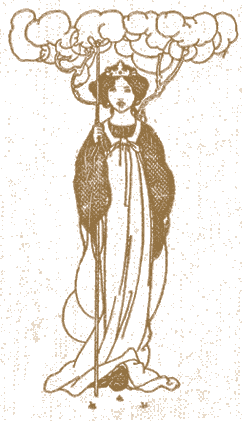 The fairy tale of Bee, Princess of the Dwarfs was originally told by Anatole France, and retold in english by Peter Wright with illustrations by Charles Robinson of the renowned Robinson Brothers who illustrated many books during the Art Nouveau era.
The copy that this site is based upon was published in 1912.
This is a very rare book, which is why I wished to share it online, as it is a beautiful and wonderful fairytale. It is a tale of childhood sweethearts who are seperated in their youth and grow up apart in strange and wonderful lands, but never forget each other, and the tale of how they once again came to be together.
The story is full of beautiful philosophy and humanity, along with the beautiful illustrations.
Please enjoy Bee, Princess of the Dwarfs.

Contents
Chapter 1: Tells of the news that a white rose brings to the Countess of the White Moor
Chapter 2: How the love of Bee of the Clarides and George of the White Moor began
Chapter 3: Which deals with education in general, and that of George in particular
Chapter 4: Tells of how the Duchess took Bee and George to the hermitage and of their meeting an hideous old woman there.
Chapter 5: Is concerned with what you see from the keep of the Clarides.
Chapter 6: Tells how Bee and George went off to the lake
Chapter 7: Shows the penalty George of the White Moor paid for having gone too near to the lake where live the sylphs
Chapter 8: Shows how Bee was taken to the land of the Dwarfs
Chapter 9: Tells faithfully the welcome given by King Loc to Bee of the Clarides
Chapter 10: In which the wonders of the Kingdom of the dwarfs are thoroughly described, as well as the dolls which were given to Bee
Chapter 11: In which the treasure of King Loc is described as well as possible
Chapter 12: In which King Loc proposes
Chapter 13: Tells how Bee saw her mother and could not kiss her
Chapter 14: In which the great grief that overtook King Loc is seen
Chapter 15: Relates the words of the learned Nur which gave an extraordinary pleasure to little King Loc.
Chapter 16: Tells the marvellous adventure of George of the White Moor
Chapter 17: In which King Loc makes a terrible journey
Chapter 18: Tells the marvellous meeting which occurred to John, the master tailor, and the good song sung by the birds of the grove to the Duchess
Chapter 19: Tells of a little satin slipper
Chapter 20: In which a dangerous adventure is related
Chapter 21: In which all ends well
Please note that this story and these illustrations have been posted in the belief that these items no longer fall under copyright, and after having found no information to the contrary. This fairytale and its illustrations was converted to digital format and this website created by Selina Fenech.